Leaflet Printing Sheffield from Killaprint

For A5 Leaflet Printing in Sheffield – think Killaprint StickerShop & PrintShop!
If you are looking for high quality leaflets, printed in Sheffield – you've come to the right place!
Leaflets are among the easiest ways to promote your product or business.  They're cheap, easy to produce, easy to distribute, and give your customers something they can physically see and take away with them!
We can print single sided or double sided, on 150gsm glossy (silk) paper, printed in-house on our own Xerox press!  Whilst leaflets can be printed in a variety of sizes, the most common size is A5 (148x210mm), but we can also print A4, A6, and DL.  If you have a design ready to go, then brilliant, we can print straight away.  If you need help with design, we can put you in contact with our local designer who will help create your marketing masterpiece!
We're a local Sheffield company too, based in Killamarsh, so you'll be helping promote and support local business – everyone wins!
Making A5 Leaflets – the Killaprint Way!

All our Leaflet Printing is done in-house at our Studio on our Xerox Versant Digital Press for excellent quality and results.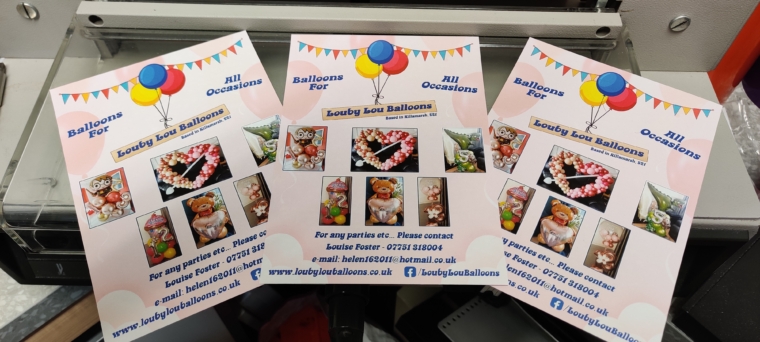 Leaflets are then cut to size on our Guillotine cutter, ready for packaging!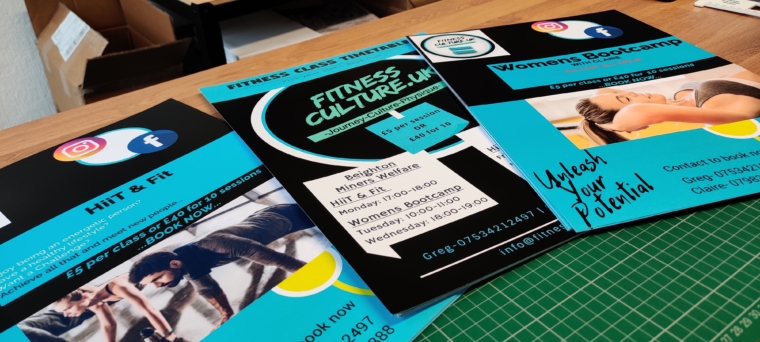 Leaflet Printing Sheffield customer business – ready for dispatch!
In addition to our website here, we have stores on both Ebay and Etsy, but our best pricing is found here where all leaflets are discounted.
We're a family-run Print Shop in Killamarsh, just outside Sheffield.  We pride ourselves on offering excellent products at cost-effective prices. We supply Leaflet Printing to individuals, businesses and organisations.  We've printed hundreds of thousands of Leaflets, and have many regular customers who keep coming back – a big thank you!
More than Just Leaflets!
We don't just print Leaflets though – we also print Stickers and Labels, Business Cards, Photos, Posters etc…
Need help with design? – we work with local designers who can help you create your leaflets, posters, booklets, and yes, even stickers.  Design fees are bespoke depending on your requirements, it's best to Contact us for more information.
If you need help, or want to ask us about a custom print job – you can always Contact us!  We look forward to hearing from you   :o)